Assistant Director of Outreach Wendy Aves recently sat down with Julie Glotzbach.  This is what Julie had to say:
Tell me how you first got involved in with PBNC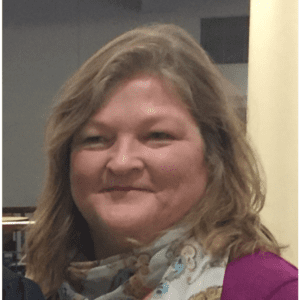 I saw the ad for screener job on Indeed Jobs and what appealed to me was the openness to semi-retired people and people re-entering the work force. I think semi-retired is a good fit for this job because it's service oriented and gets me out in the world to places I would not normally go.
What is your role at PBNC?
I am a part time adult screener and work also as a part time PreK screener.
What's your first memory of working with PBNC?
Working with Wendy in the break room and learning the camera. It was during the pandemic, so the office was very quiet. I was happy to be out of the house and doing something!
What has surprised you most about working with PBNC?
How much I appreciate the people I get to work around. The patients, kids, Preschool teachers, clinic staff, and coworkers I get to meet and work with have been inspiring to me in my daily life. I'm grateful that I get to meet so many different people.
What's the best thing to happen since you started working with PBNC?
The best was an 82-year-old Spanish speaking woman who came in with her grandson for a retinal screening at the Drew clinic. She had NEVER had anyone check her eyes in her lifetime. After the test she was so happy, she touched my arm and said something about love, and she was almost crying. You never know the impact of this preventive work that we do.
What do you wish other people knew about PBNC?
We have fun volunteer opportunities! Especially at fair time.
Tell me about some of the people you've met while working at PBNC?
I met a woman who went back to school at 65 and was writing a book at 70. She seriously looked like she was in her mid-50s. She talked about her upbringing on an organic farm in PA in the 50s. Ahead of her time!
What would you say are some of your strongest beliefs about PBNC?
Service driven organization that tries to reach as many people as possible! I'm also impressed by the longevity of the staff!
When your friends/family find out that you work for PBNC, what do they say or ask?
They assume I have a background or degree in Optometry. Haha.  Once I describe my job they want to know if they can apply.
What might someone be surprised to know about you?
I'm probably too much of an open book…so I can't think of any surprises. I guess it would be that I try to do mixed media art in my spare time.  Also I've been married for 31 years and we have a son who is getting married this year and who is a sound engineer for a touring Christian singer.
What would you tell someone who is thinking about donating, volunteering, being trained to be a screener?
Go for it – if you like people! PBNC is a worthy cause and a great place to work!