We are very excited to introduce Everette, our new PBNC Ambassador for 2023-2024! Everette and her family are already a great addition to our team, as they plan to help us share our mission to prevent blindness throughout NC. Please enjoy Everette's story as shared by her mom Katie.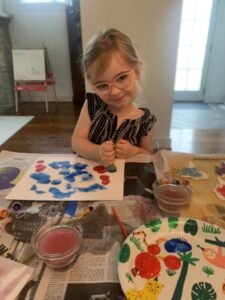 Everette ("Evvie" for short) was your typical, rambunctious 2-year old; with a love of baby dolls and inexhaustible energy.
One afternoon in February, she came home from preschool with a note from Prevent Blindness NC, indicating she had an abnormality on her vision screening and suggesting she see a pediatric eye doctor.
As first-time parents, we were shocked and somewhat confused. Had there been a mistake? Evvie had never squinted or acted as if she had any trouble with her vision at all. Just to be safe, we made the appointment anyway.
Within moments in the pediatric ophthalmologist's exam room, the doctor confirmed that Everette had a condition called hyperopia.
Basically, Everette is farsighted. Her eyes and brain have to work overtime to bring objects into focus. While this was not causing any outward symptoms yet, we learned that it could lead to headaches, attention issues, and further worsening vision if left untreated.
Thankfully, the doctor was able to write us a prescription that day and within a couple of weeks, Everette's first pair of hot pink glasses arrived in the mail.
Understanding the unique temperament of 2-year olds, we were prepared to fight a daily battle to get Everette to keep these glasses on. But within moments she was carrying on, playing with her baby dolls and kitchen set as if the glasses were nothing new. We asked her, "Can you see now? Is that better than before?" but didn't get much in reply. It wasn't until that night, when we had to remind her to take them off so she could take a bath and go to bed, that we realized her glasses were helping tremendously.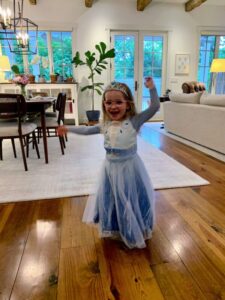 Perhaps the most significant validation is not only her willingness to wear her glasses all day, every day since then, but her pride and happiness while wearing them. She wasn't verbal enough at the time to tell us the difference they've made, but now, as a spunky and self-assured three and a half year old, Everette enjoys exclaiming, "I can see!" when she puts on her bright pink glasses each morning.
They're part of her personality now. People often share compliments on her fun accessory, and she enjoys pointing out when she sees other kids: "Hey, they've got glasses like me!"
Everette has been a champ with her vision follow-ups, and we are hopeful that as her eyes continue to grow she might even outgrow the condition. But regardless of her outcome, we are forever indebted to Prevent Blindness NC for their diligent work in preschools