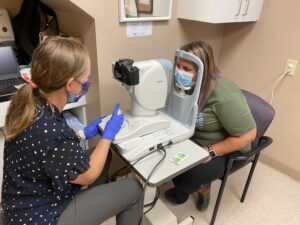 We at Prevent Blindness North Carolina have worked hard to safely resume free retinal screenings in community health clinics and free clinics across the state. Over the past 11 years, PBNC has partnered with over 40 federally qualified health centers and community health clinics to provide retinal screenings to detect diabetic eye diseases and other diseases of aging eyes.  Our community health clinic and free clinic screenings target low income diabetic and suspected diabetic patients who are seldom able to follow annual dilated eye exam recommendations. The program utilizes state of the art retinal imaging equipment, provides the screenings at no cost to the clinic or the patient, and utilizes eye doctors to read the images.
This year PBNC is taking additional important precautions to ensure our screeners and patients are safe while we continue to deliver sight saving services for those most in need.   Working together with clinic sites, we have implemented PPE policies, temperature checks, patient surveys to screen for signs or symptoms of COVID-19, and extensive cleaning and disinfection of all equipment and surfaces touched.
In a recent screening conducted at Piedmont Health Service's Prospect Hill location, PBNC was able to capture photos of the safety precautions in action. PBNC is committed to continuing our sight saving screenings while continuing to ensure that all screeners and screening participants are protected during the pandemic.
To schedule a screening, please fill out the short form below: