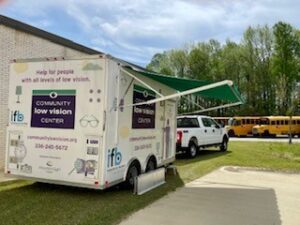 In December, Prevent Blindness NC successfully completed its annual project to bring a mobile eye exam unit to NC communities in need.  Prevent Blindness NC, IFB Solutions, and school nurses in Halifax, Weldon City and Roanoke Rapids school formed a unique collaboration of organizations and individuals that are committed to working together to improve children's vision.  Each of the three partners has a specific role in the project to include training, screening, logistical coordination, and providing eye exams and glasses.  This year the mobile unit provided eye exams for 44 children and every single one was confirmed with a diagnosis requiring treatment.  All 44 children received a new pair of glasses and some received further treatment plans such as patching for amblyopia. 
Eye and vision health are not always adequately recognized as either a personal or population health priority or as a means by which to achieve better health equity, despite evidence that vision impairment significantly impacts childhood development and learning in very young children through adolescence. Many North Carolinians remain in the dark about this hugely important issue, often allowing preventable problems to escalate until they seem insurmountable.   Children rarely complain about vision problems. Often, a child believes everyone sees the world the way he/she does. That is because children's vision problems are often silent, without any signs for children, their parents or teachers to notice.
If early detection and treatment of vision issues occurs in the schools, children will see better, eventually read better, and maintain greater self-esteem throughout their educational journey. This program not only helps improve a child's vision but also the quality of a student's education and life. PBNC looks forward to resuming this partnership and to use this year's experiences to improve and grow the services next year.