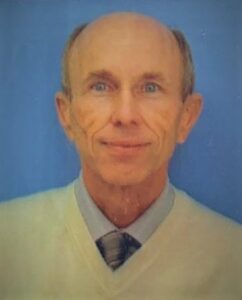 Tell me how you first got involved in with PBNC
I retired in December 2020 after 36 ½ years in education as teacher, principal and district director in Martin and Pitt County schools. I am not one that likes to sit around and saw the PBNC Vision Screening Trainer job opening advertised on Indeed. I applied and was ready to go in the Fall 2021, then COVID returned. I was called back to service in Martin County and spent the entire school year as a school administrator in 3 different schools. I was so excited that I was able to start with PBNC this fall.
What is your role at PBNC?
I am a Vision Screening Trainer.
What was your first impression of PBNC?
I was impressed! I had no idea of PBNC's role or what was required to conduct a vision screening. My school nurse and health science teacher would always tell me when the screenings were being conducted at our school.  Both were trained in the best practice methods taught by PBNC.
What's your first memory of working with PBNC?
My first memory of working with PBNC was observing a training class taught by Caroline. She made it look so easy. I was shocked at what was actually involved.
What has surprised you most about working with PBNC?
I am amazed at the services that PBNC provides and the number of people/students that they come in contact with throughout the school year.
What do you find most challenging about preventing blindness in children?
Three hours doesn't seem long enough to tell trainees why vision screening is so important and to conduct the training itself. I have to watch my time carefully and judge the students to see what I need to concentrate on. It is also challenging to get parents to understand what to look for in children with vision difficulties.
What's the best/worst thing to happen since you started working with PBNC?
The best thing is when students say they have learned something and they enjoyed the class more than anticipated.
What do you wish other people knew about PBNC?
The mission and the resources available. I point out every in training as well as the resources that are available on the webpage.
Tell me about some of the people you've met while working at PBNC?
I have had the opportunity to meet high school students as well as adults in the trainings. Once the students understand the importance of vision screening they are very eager. Many of the students share their vision difficulties and how that effected their education and life.
What would you say are some of your strongest beliefs about PBNC?
PBNC believes that good vision is an important part of a child's success in education, as well as social and emotional well-being.
When your friends/family find out that you work for PBNC, what do they say or ask?
As I explain what I do, people are surprised that there is a training for vision screening and did not realize the importance of identifying and correcting vision issues early.
What might someone be surprised to know about you?
I was once mistaken for Herb Sendek, NCSU men's basketball coach 1996-2006, at an Applebee's in Raleigh. I was well taken care of. Somewhere there is a faux signature of him on a napkin that says Applebee's and NCSU #1.
The interest in (the Cause) seems to be growing. Why do you think that is?
I believe the interest will increase as we return back to normal. As parents and teachers realize that students are having vision issues and the economy continues to weaken, there will be more of a need for the resources provided by PBNC.
What would you tell someone who is thinking about donating, volunteering, being trained to be a screener?
Most certainly do!! You will make a difference in the lives of many.
What's it like to be a screener and trainer at PBNC?
For me it is a great position to have. I have the opportunity to train and to have fun in class. I get to travel and meet people. While I was in Siler City recently I visited Aunt Bee's grave. I have learned so much and continue to learn as read about the importance of vision screening for children.