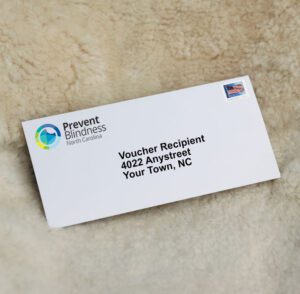 As a component of the adult vision screening program at Prevent Blindness North Carolina, vouchers for no cost eye exams and glasses are provided to all to qualified individuals who demonstrate the need for a comprehensive vision exam performed by an eye care professional. Voucher recipients may have initially received a retinal screening by a trained PBNC vision screener or they may have had an acuity screening performed by a clinical staff member at their local community health clinic. These clinical staff members are trained by PBNC to ensure everyone is up to date on current best practice screening methods.
While providing a retinal screening at Piedmont Health's Scott Clinic in Burlington, NC, a patient there told PBNC retinal vision screener, Cyndi Catella, how happy she was to have received a comprehensive vision exam and newly prescribed eyeglasses. She couldn't say enough good things about the program and how she appreciated the glasses AND her newfound ability to do more in daily life.
It's the many stories like this that make the work we do at PBNC so much more rewarding!