Community Vision Program Director, Wendy Aves, recently sat down with PBNC Staff Member Cyndi Catella to share more about Cyndi and her role at PBNC:
Q: What is your role at PBNC?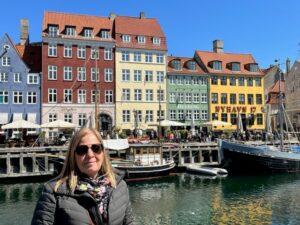 A: I work as a retinal screener and a trainer in the certification program.
Q: Tell me how you first got involved in with PBNC?
A: I first got involved with PBNC because I was looking to return to work and wanted a position that I could be of service and help my community.  I had previously worked in a hospital and training center but was looking for a more flexible working environment.  PBNC offered a flexible work schedule and most of all the opportunities to help underserved people. 
Q: What's your first memory of working with PBNC?
A: My first memory was training at a rural health clinic and seeing so many patients that had diabetes and never had an eye exam. I had never really thought about the effects of not having basic healthcare.  Patients were so overwhelmingly grateful that we came out to check on their eyes.
Q: When you last conducted a training or screening, how did that make you feel?
A: Every time I go to a screening, I always come across some special patients.  Last week, a patient came in and was so thankful that last year when her and her husband came in for retinal images, he was referred to an eye doctor based on the screening.  He had ocular lymphoma and is currently being treated. They didn't have insurance and without the screening it would not have been caught early enough for treatment.  Certification: One memorable moment in a certification class, one of the participants came up to me after class. She had training 2 years ago and didn't understand the two-line difference. After I explained how I check the 2-line difference along with how we train for it in the class, it clicked with her. She was excited that this year she would participate in the screening and not just be the chart attendant. To see how good, she felt about herself and to know that when she checks vision that she will do a great job makes the difference.
Q: Tell me about some of the people you've met while working at PBNC?
A: Working at the [NC State] fair, I have had the opportunity to meet volunteers, students, and doctors all with the same ambition to provide eyecare.  The different perspectives have been eye opening.
Q: What's it like to be a screener and trainer at PBNC?
A: Both the screener and trainer rolls are rewarding. You get to see different parts of the state and meet all walks of people. Every clinic you walk in to is so happy and appreciative that you came, where else can you work when people are so happy that you are bringing this service to them?