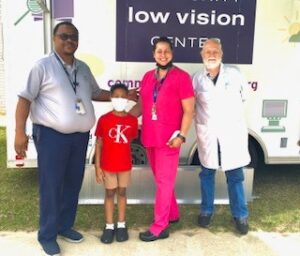 After a two year hiatus, Prevent Blindness NC was excited to revive an annual project to bring a mobile eye exam unit to two NC communities in need.  This highly collaborative project between
Prevent Blindness NC, IFB Solutions, and school nurses in Halifax and Roanoke Rapids school districts provided 21 eye exams and glasses for children who could not otherwise access care.  Each of the three partners has a specific role in the project. PBNC provides training for local school screeners, serves as a liaison between IFB and the school nurses, and assists in coordination of the eye exam days.  School nurses oversee local school screenings prior to the event, select referred children in the highest need to receive the eye exams, and coordinate getting the children to the event.  IFB Solutions brings the mobile unit for one day to each of the PBNC selected high needs area school districts and conducts eye exams for those children.  IFB Solutions also provides glasses for any child that receives a prescription.
Lynn Patterson, PBNC Certification Coordinator, attended both days and met a 9 year old student named Christian.  Christian was found to be extremely farsighted and in need of a specialized prescription. IFB Solutions committed to issuing the special lenses in the frames Christian picked as his favorite. The school nurse said he is extremely bright and this will surely enhance his performance in the classroom and bolster his confidence as well.
Christian is just one example of the many children we were able to help through this unique collaboration of organizations and individuals that are committed to working together to improve children's vision. When kids are better able to see a classroom board and read the words in a book they are not only more confident about participating in class, but the class as a whole experience fewer disruptions.  This program not only helps improve a child's vision but also the quality of a student's education and life.  PBNC looks forward to resuming this partnership in 2023 and to use this year's experiences to improve and grow the services next year.