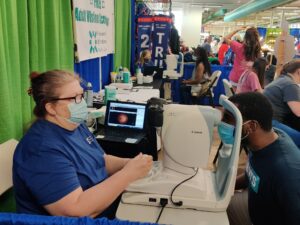 After a disappointing cancellation of the NC State Fair last year due to the pandemic, we were thrilled to be back in action at our vision screening booth for 11 days in October. During the 2021 NC State Fair, PBNC staff and volunteers screened over 1,000 fairgoers in an effort to detect possible vision problems and increase awareness of the importance of regular vision care. Thanks to support from The Hamlin Companies, The Raleigh Eye Center, and The City of Raleigh, the PBNC team provided acuity and retinal screenings, as well as risk assessments, at no cost for adults ages 18 and older.
Many fairgoers have made a visit to our vision screening booth an annual part of their fair trip, realizing the great opportunity to take advantage of a quick, free check on their current visual health. Through the screenings and assessment, PBNC is able to inform participants about their visual acuity, as well as detect any signs of possible eye disease such as diabetic retinopathy, glaucoma, macular degeneration, and cataracts.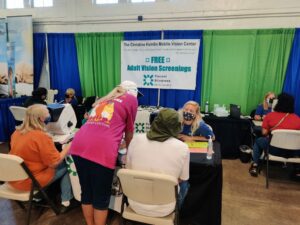 In addition to trained screeners, PBNC utilizes many volunteer groups to help operate the screening booth successfully. A huge thanks to Delta Gamma-NC State, Carolina Pre-Optometry Association, NC State Pre-Optometry Club, Wilmington Eye, The Raleigh Eye Center, and Raleigh Ophthalmology for generously donating their time and effort to help us carry out our mission to prevent blindness and preserve sight. We truly could not do it without you!