PBNC Certification Director Anya Helfrich recently sat down for a chat with Amanda Strahin,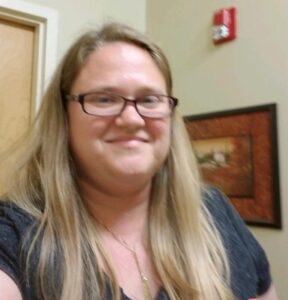 one of the dedicated vision screening trainers on her team.  Here's what she found out!
Tell me how you first got involved in with PBNC.
I was looking for a part-time job that allowed me to use my teaching skills in a new way.
What is your role at PBNC?
I am a vision screening trainer in the Eastern NC region.
What was your first impression of PBNC?
I thought the program was wonderful. It's awesome that we have something set in place to help kids be as
What's your first memory of working with PBNC?
My first memory of working with PBNC was my co-training with Caroline Carbone. I was terrified because I had no idea how I was going to learn everything in the presentation to be able to do it on my own. Once I got through my part I was able to immediately relax.
What has surprised you most about working with PBNC?
The enthusiasm of the high school students I am training. They are really excited about being able to screen a child and their peers.
 When you last conducted a training or screening, how did that make you feel?
It made me feel extremely helpful. I trained a set of nurses and high school students and it was amazing to watch even the nurses get excited about screening themselves.
 What do you wish other people knew about PBNC?
I wish other people knew how important this responsibility is. I do not think a lot of thought goes into vision screening for parents and other school staff. It could even be something taken for granted, but it is very important when helping children be successful.
Why are you supporting PBNC as opposed to other groups working with children?
The biggest reason I support PBNC is because it involves helping children be successful in an area they have absolutely no control over.
When your friends/family find out that you work for PBNC, what do they say or ask?
The biggest question I get from friends and family is "what do you actually do?" After I explain it, I am usually asked if I can screen them to see how well they are able to read the chart.
What might someone be surprised to know about you?
I am an avid gamer. When I have free time, which is quite rare, it is the first thing I go to in order to relax and decompress.
What would you tell someone who is thinking about donating, volunteering, being trained to be a screener?
This is a wonderful program dedicated to helping children be successful. It's definitely worth donating to the cause because our children need all the support we are able to provide them.
What's it like to be a screener and trainer at PBNC?-
I think being a trainer for PBNC is rewarding. It's an opportunity to make a difference in our communities in a way not everyone is able to do.